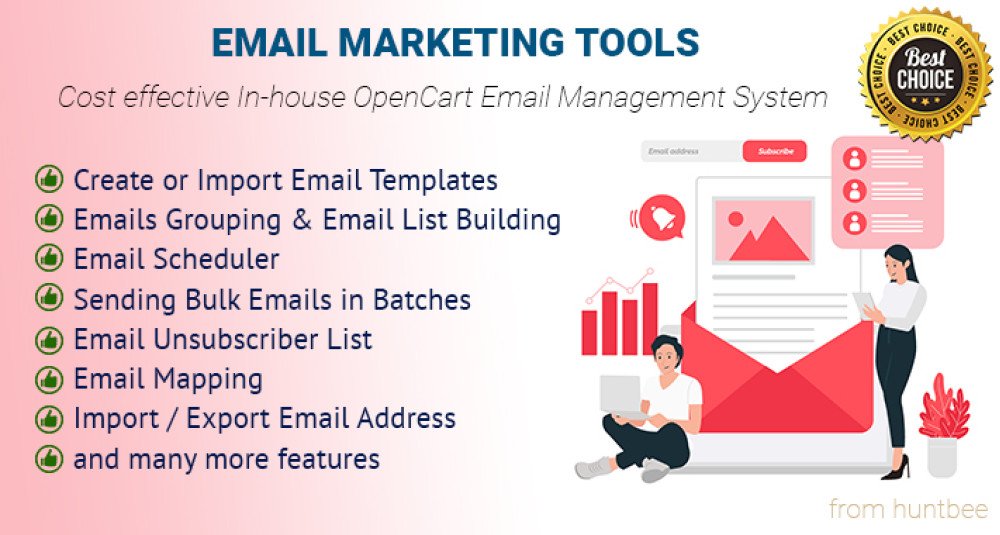 Email Marketing Tools & Campaign Management
| | | | | | |
| --- | --- | --- | --- | --- | --- |
| Name | Compatibility | Version | Size | Last Updated | |
| Email Template Designer & Tools [23xx-3xxx] | 2.3.x.x - 3.x.x.x | 4.3.3 | 5.4MB | 10/01/2023 | Download |
Using this extension you can manage your email marketing most cost-effectively without having to spend 1000s of dollars on 3rd party Email Services like Mailchimp or Sendinblue.

The basic purpose of this extension is to be able to send bulk emails using your own hosting space without overloading your server. You can create or import beautiful email templates, add products to the email templates, create email lists, and can schedule your emails with this extension with the help of CRON jobs.

This extension offers advanced tools like importing email addresses from any table of your table, creating email groups, email validation, automatically removing the duplicate email address from the list, etc.

You can create an email template with variables and short-codes and schedule the emails to be sent to any particular email group. For example, you may want to send weekly or monthly latest product emails to your customer. You create email templates and add the template to the email planner. The emails will be sent automatically periodically.

You do not have to send 1000s of emails in one attempt. Just add the emails to the CRON bucket, and you can send 20 emails every 5 minutes which means you can send 5760 emails in a day without overloading your email server. This is just an example, you can set any limits according to your convenience.

You have email statistics to see who has viewed your email, who has unsubscribed to the email, the number of emails sent, etc.

You can use this extension to create email templates and extend the functionality to other applications.

This extension contains
Email Template Designer
Email Groups or Email Import
Email Types
Email Unsubscriber
Email Planner
Send Email

VERSION : 4.3.3
DATE RELEASED: 10 Jan 2023



Feature added to OpenCart 2x and 3x versions

Newsletter Subscribers View List Added to Email Groups
VERSION : 4.3.2
DATE RELEASED: 13 Dec 2022



New Feature Added to Email Unsubscribers: Bulk Import unsubscribers emails using CSV (only for OpenCat 2.3.0.2 and 3.x.x.x)
VERSION : 4.3.1
DATE RELEASED: 21 Oct 2022


VERSION : 4.2.5
DATE RELEASED: 28 Sep 2021


VERSION : 4.2.4
DATE RELEASED: 01 May 2021



Added Resend Email Feature. You can resend email from the email sent log. Resend email will not be saved to cron bucket even if cron mode is enabled.
Improved security
Minor UI additions
VERSION : 4.2.3
DATE RELEASED: 14 Apr 2021



Unsubscribe & browser view link fix