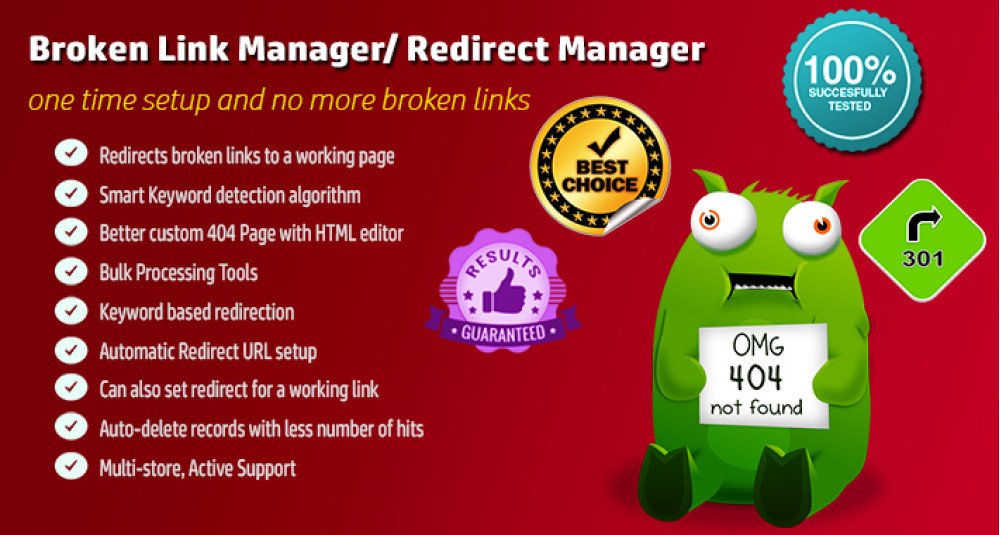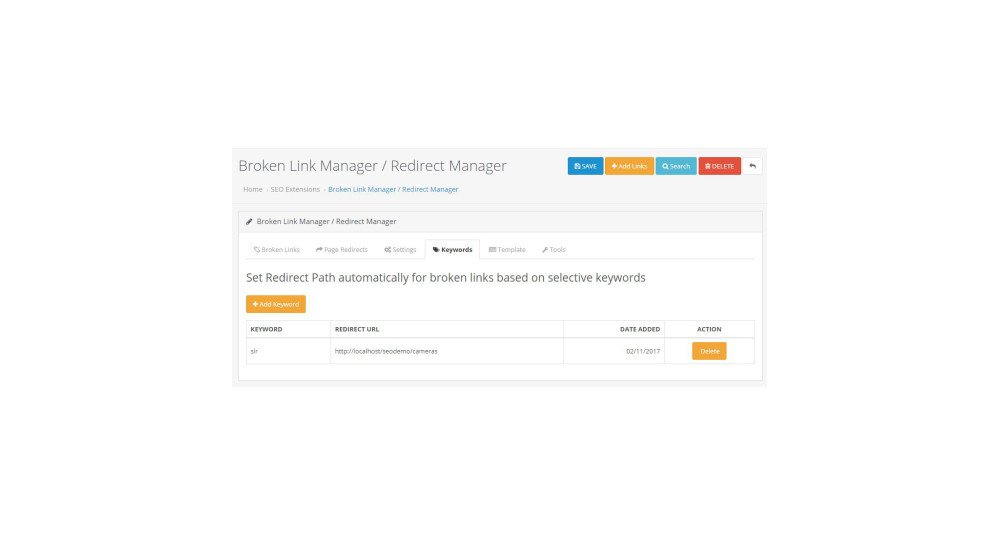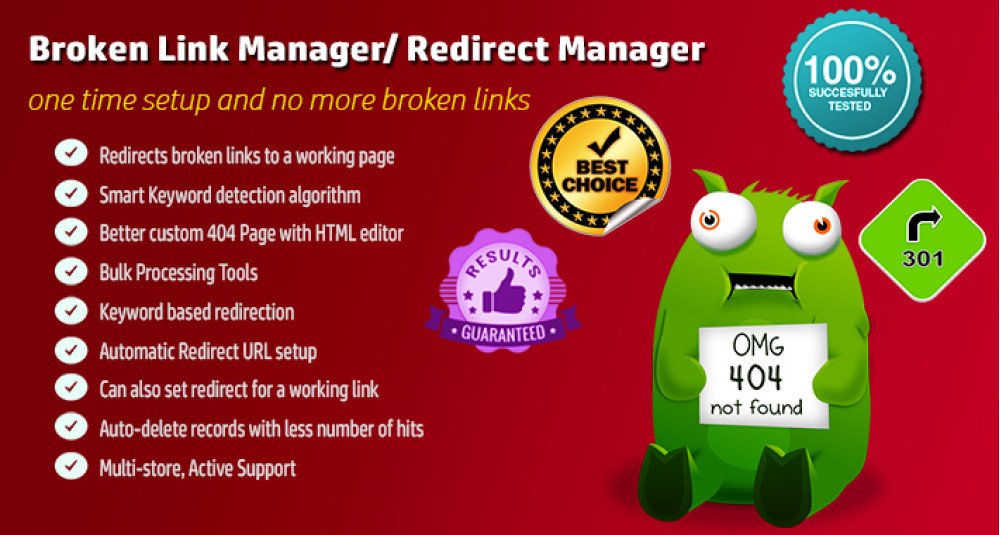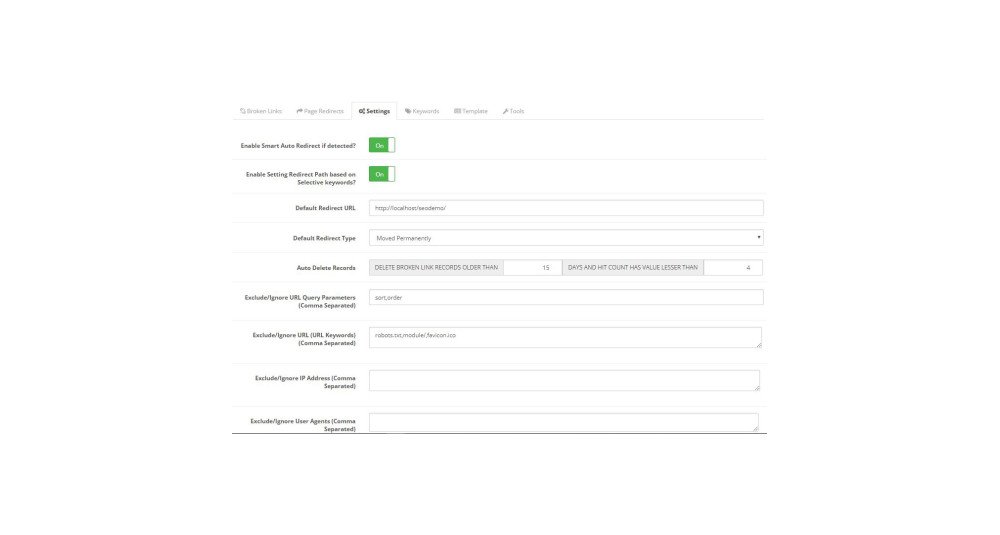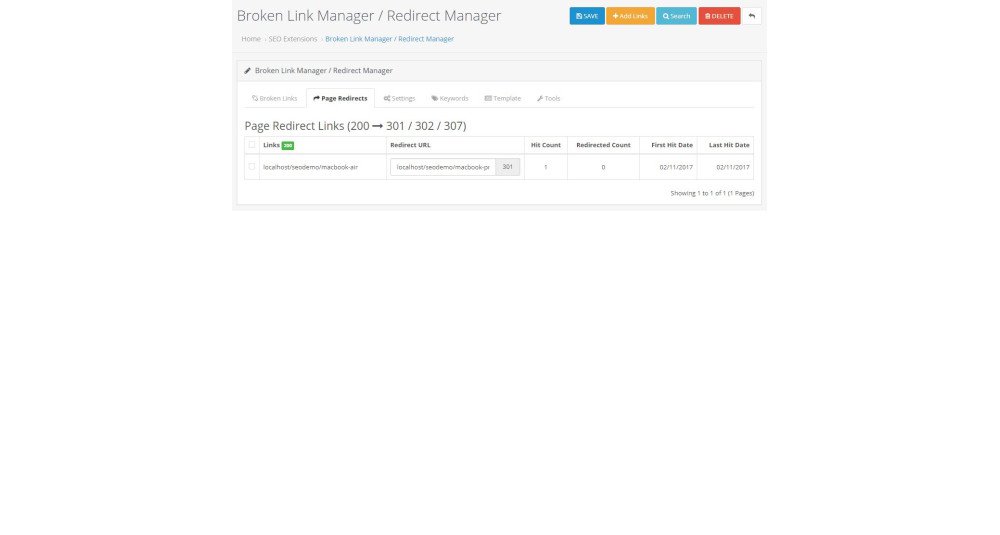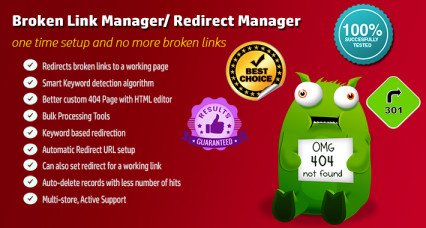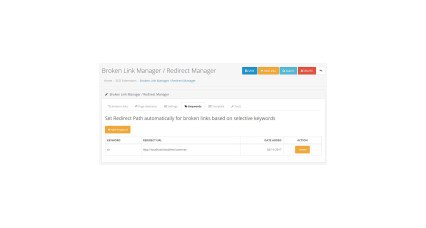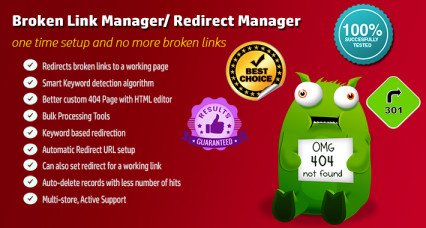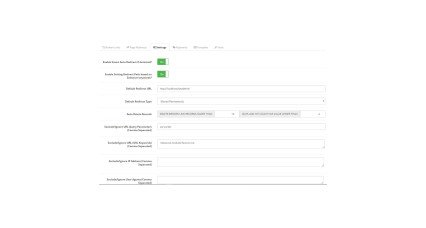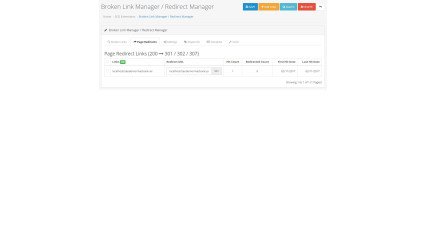 Broken Link Manager /Auto Redirect Manager
| | | | | | |
| --- | --- | --- | --- | --- | --- |
| Name | Compatibility | Version | Size | Last Updated | |
| SEO Broken Link Manager [23xx-3xxx] | 2.3.x.x - 3.x.x.x | 5.1.4 | 1.58MB | 05/08/2022 | Download |
This extension is one of the very essential extension for your opencart store. This extension captures your broken links and immediately redirects to a working page and thereby there will never be any broken link in your website. Therefore your SEO performance is very much improved.
After installing this extension, you can very well notice in your google search console that your 404 pages drops to 0.
---
Features
Redirects broken links to a working page
Smart Keyword detection algorithm which can redirect to relevant working pages
Better custom 404 Page
Custom 404 page HTML designer
Bulk Processing Tools
Tracks all 404 pages that customer hits
Optionally Exclude URL using Specified URL pattern
Optionally Exclude URL by IP Address
Optionally Exclude URL by User Agent
Automatic Redirect URL setup
No files overwritten
No Technical Knowledge Needed
User Agent Tracking
IP Tracking
Can be adopted to any theme or template
Multi-language
Multi-store
Keyword based redirection
Admin can also set redirect for a working link
Auto-delete records with less number of hits
VERSION : 5.1.3
DATE RELEASED: 02 Jan 2020



Added an additional condition to auto delete records that are added by the extension itself and not by the admin manually.
VERSION : 5.1.2
DATE RELEASED: 04 Feb 2019



Minor compatibility bug fixed for opencart version 3.x.x.x
VERSION : 5.1.0
DATE RELEASED: 07 Jan 2019



Extension code optimized for maximum compatibility
New Feature Added: Added dynamic link search option in admin
Enhanced broken link detection and redirection
New Feature Added: URL Replacer & Redirect
ckeditor for Template editor
Store selection option within the extension
Records display table redesigned for better UI
VERSION : 5.0
DATE RELEASED: 23 Sep 2017



Compatibility added for 3.0.x.x
Requires SEO Base plugin
Extension restructured as per SEO Base plugin
Updates were made w.r.t 2.x.x.x and 3.x.x.x. No updates made to older opencart version (1.5.x.x)
Admin UI redesigned
More user friendly admin panel
Added feature: Keyword based redirect setup for broken links
Added feature: Detection of broken link redirecting loop and sets default redirect URL for those broken links
Added feature: Auto delete records with few hits.
VERSION : 4.3
DATE RELEASED: 07 Aug 2016



SMART URL detection and redirection improvised
OCMOD VERSION (VQMOD version discontinued)

for OpenCart 2.3.x.x version onwards
VERSION : 4.2
DATE RELEASED: 09 Jun 2016



Extension updated for OpenCart 2.2.0.0 compatibility.Updates are made only related to OpenCart 2.x.x.x versions. No changes made to OpenCart 1.5.x.x versions

Feature Added:

Smart URL Redirect




Smart duplicate URL detection for URL query parameters




Upgrading from 4.1 to 4.2 instructions

Overwrite the existing version 4.1 with 4.2 version's files
VERSION : 4.1
DATE RELEASED: 26 Jan 2016



Bug Fixed: Undefined Variable custom_page_enable in Empty Cart Page

VERSION : 4.0
DATE RELEASED: 22 Nov 2015



Common Redirect Feature Added
User can select the redirect response code
Default redirect URL if URL is broken
Bulk update of redirect URL
Bulk update for response code
Custom 404 page Designer - Multi-language
Delete All Records
Bulk Assign default URL to 404 links
Admin Report Filter Enhanced
Ignore IP, Ignore User Agents Added
VERSION : 3.1
DATE RELEASED: 02 May 2015



Upgraded version for OpenCart 2.X developed




Empty Exclude URL field issue fixed




Added code for product not found, category not found, manufacturer not found, information not found




Redirect Header added as 301 Permanently Moved



VERSION : 1.3
DATE RELEASED: 27 Oct 2014



Exclude URL feature added




Redirect URL should not be same as error URL - Validated



VERSION : 1.2
DATE RELEASED: 07 Aug 2014



Pagination issue fixed

VERSION : 1.1
DATE RELEASED: 06 Aug 2014



Undefined Variables issue found during first installation and in shopping cart page has been Fixed