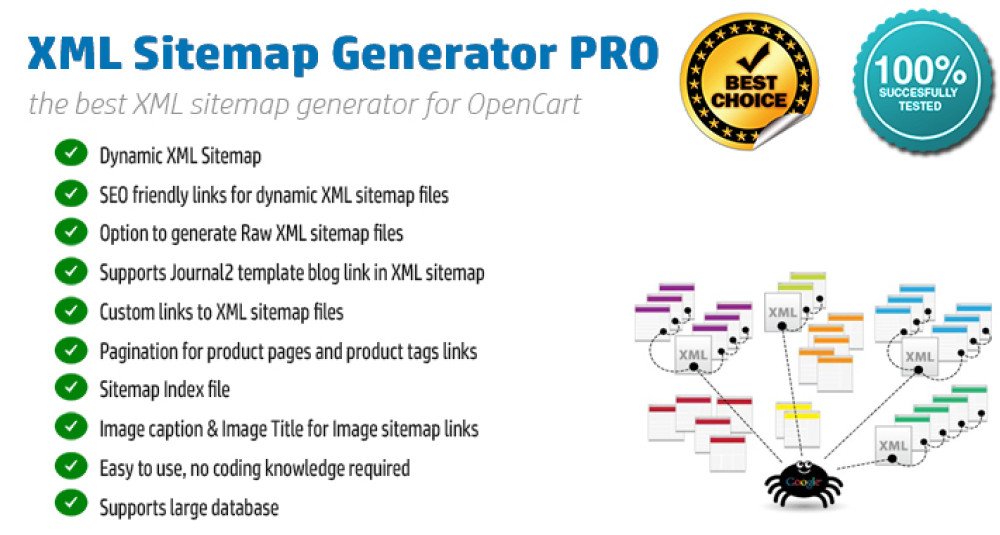 Sitemap Generator - SEO XML Sitemap Generator - Unlimited Links
| | | | | | |
| --- | --- | --- | --- | --- | --- |
| Name | Compatibility | Version | Size | Last Updated | |
| SEO XML Sitemap [23xx-3xxx] | 2.3.x.x - 3.x.x.x | 5.2.7 | 23.99KB | 23/08/2023 | Download |
XML Sitemaps can help improve the accuracy of rankings and therefore search results, meaning they are good for your overall search campaign.
This extension generates XML sitemaps dynamically for your opencart store where all the latest updates are reflected and the sitemap is always up-to-date.
This extension arranges and organizes all the XML sitemap in its sitemap index file and therefore you only need to submit the index files. All other XML files are automatically indexed from the index file.
This extension uses paginated series for displaying the product sitemap and product tag sitemaps. This will be very helpful in cases when your store is huge and having products more than 30,000 or even in 100,000 since there is a limitation of number of links to be provided in each sitemap file. Due to this property, the sitemap file becomes Search Engine Optimized.
Product images and additional images, category images, brand images are all added to sitemap files which will increase image indexing in search engines.
You can additionally add any number of custom links to your sitemap files.
This extension also supports Journal2 Blog and Journal3 Blog Sitemap
Features / Highlights
Dynamic XML sitemap
SEO friendly links for dynamic XML sitemap files
Custom links to XML sitemap files
Supports Journal2 template blog link in XML sitemap
Supports Journal3 template blog link in XML sitemap
Product images inclusion
Product additional Images inclusion
Category Images inclusion
Brand images inclusion
Sitemap Index file
Image caption and Image Title for Image sitemap links
Pagination for product pages and product tags links
Multi-language support
Multi-store support
Category to Product links
Brand to product links
Easy to use, no coding knowledge required
Active Support
VERSION : 5.2.7
DATE RELEASED: 24 Aug 2023



Code Optimized for faster loading (only for OpenCart 2.3.x.x & 3.x.x.x)
VERSION : 5.2.3
DATE RELEASED: 22 May 2019



Included Journal3 Blog Sitemap
VERSION : 5.1
DATE RELEASED: 27 Aug 2018



UPDATE HAS BEEN MADE ONLY TO 2xxx & 3xxx VERSIONS. NO ENHANCEMENTS FOR 15xx VERSIONS

Removed Raw XML generation option
Code Optimization for better performance
Conflict fix when used with other SEO extensions from other developer
Special Character Encoding for Misc / Custom links sitemap
Added Feature: Last modified date issue fixing tool
Added Feature: Import bulk links into sitemap
VERSION : 5.0.2
DATE RELEASED: 18 Feb 2018



Updated Tag order to loc, lastmod, changefreq, priority [for 2xxx and 3xxx]
VERSION : 5.0.1
DATE RELEASED: 09 Nov 2017



Added a feature for encoding & character in XML

VERSION : 5.0
DATE RELEASED: 31 Oct 2017



Extension redesigned for opencart 2.x.x.x
Compatibility for 3.x.x.x
Code optimized
Dynamic XML sitemap generation algorithm implemented
Raw XML files generation from the dynamic XML files
Category to Product links
Brand to product links
Additional Images, Image caption, Image title, Image resizing features
Batch concept removed
Pagination concept implemented
XML beautify (Optional setting)
User Interface enhanced
SEO friendly links for dynamic XML files
VERSION : 4.4
DATE RELEASED: 11 Aug 2016



OCMOD VERSION Released for OpenCart 2.3.x.x versions
VERSION : 4.1
DATE RELEASED: 09 Jun 2016



Extension updated for OpenCart 2.2.0.0 compatibility.Updates are made only related to OpenCart 2.x.x.x versions. No changes made to OpenCart 1.5.x.x versions

The following changes are made:


Updated the extension admin template file, admin controller file
Updated VQMOD XML files of this extension

Upgrading from 4.0 to 4.1 instructions

Overwrite the existing version 4.0 with

the 4.1 version's files
VERSION : 4.0
DATE RELEASED: 01 Mar 2016



Changes and updates made for opencart 2.x.x.x compatible versions.
Individual batch generation button removed
Code Optimized
Added time limit check script
Added cron job script for automation
VERSION : 3.0
DATE RELEASED: 26 Sep 2015



New features implemented for OpenCart 2.x Versions are also implemented for OpenCart 1.5.x versions.
VERSION : 3.0
DATE RELEASED: 20 Sep 2015



Added SEO URL ALIAS GENERATOR (Automatic & Manual Mode Generator)




Ajax Loading of Extension Web Parts for User friendliness and to increase performance speed




Fixed Multi-store Add Custom links issue



Updated sitemap file structure such that index files are saved in

root directory

and all other sitemap files under the folder "

hbsitemaps

"