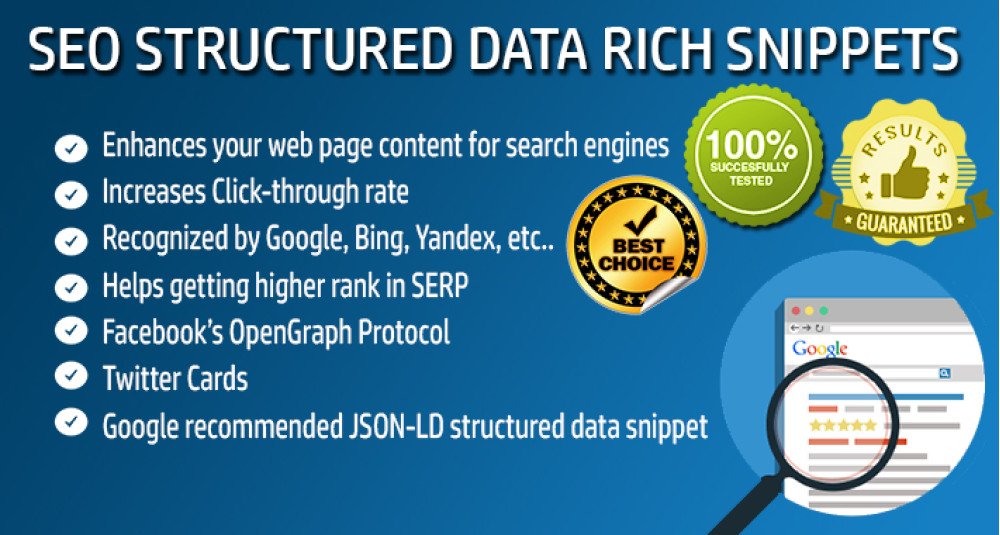 SEO Structured Data - Rich Snippets
| | | | | | |
| --- | --- | --- | --- | --- | --- |
| Name | Compatibility | Version | Size | Last Updated | |
| SEO Structured Data [23xx-3xxx] | 2.3.x.x - 3.x.x.x | 9.3.15 | 26.95KB | 25/09/2023 | Download |
This extension adds the following structured data that can be recognized by search engines like google, bing and social media platform like Facebook, Twitter
Adds product structured data with price, availability, reviews, etc
Adds breadcrumbs
Adds website information
Adds local business information
Adds contact information
Adds social profile links
OpenGraph
Twitter Cards

The extension uses structured data in JSON-LD format as recommended by Google
Structured data or schema is a code added to your HTML part of your webpage to improve the way your page is represented in SERPs.
In order to beat your competitors ranking Google's Rich Results and Rich Snippets is the best way to stand out and get more clicks. Also installing this extension will do the following
Enhance your visibility in search results
Increases organic search traffic
Increases your Conversion rate from SEO
Get more targeted traffic
Quicker website indexation
More qualified traffic
Increase in CTR (click-through rate)
---
What is Schema.org
Schema.org is the result of a collaboration between Google, Bing, Yandex, and Yahoo! to help you provide the information their search engines need to understand your content and provide the best search results possible at this time. Adding Schema markup to your HTML improves the way your page displays in SERPs by enhancing the rich snippets that are displayed beneath the page title.
Search engines use structured data to generate rich snippets, which are small pieces of information that will then appear in search results.
---
Features
Adds structured data to your webpages
OpenGraph Meta tags
Twitter Cards
Breadcrumbs List
Category Product List
Uses JSON-LD format as recommended by Google
Follows the up-to-date standards

VERSION : 9.3.15
DATE RELEASED: 26 Sep 2023



Validation added for Inactive parent category for breadcrumbs structured data building (only for opencart 2.3.0.2 and all 3.x.x.x versions)
VERSION : 9.3.14
DATE RELEASED: 05 Sep 2023


VERSION : 9.3.13
DATE RELEASED: 07 Aug 2023



Code Optimization
Added a new feature: Breadcrumb structured data type
VERSION : 9.3.12
DATE RELEASED: 06 Nov 2021



Minor bug fixed. (price_date)
VERSION : 9.3.11
DATE RELEASED: 30 Oct 2021



Fixed a minor bug with the last update 9.3.10. Related to Array to string conversion Error.
VERSION : 9.3.10
DATE RELEASED: 19 Oct 2021



Updated extension as per latest Google Standard. w.r.t offer type
VERSION : 9.3.9
DATE RELEASED: 02 Oct 2021



Updated extension as per latest Google Standard. w.r.t brand type
VERSION : 9.3.7
DATE RELEASED: 26 Feb 2020



Added encoding of special characters in reviews text
VERSION : 9.3.6
DATE RELEASED: 05 Feb 2020



Minor bug fixed related to opengraph category URL
VERSION : 9.3.5
DATE RELEASED: 29 Apr 2019



Added default value for brand if there is no manufacturer or brand assigned to product
VERSION : 9.3.4
DATE RELEASED: 25 Mar 2019



Fixed : Undefined variable actual_price on product pages.
VERSION : 9.3.0
DATE RELEASED: 07 Jan 2019



Added property: sku
Added property: mpn
Added property: productID
Added property: priceValidUntil
Added property: review
Added property: url

The above mentioned features are added only for opencart 2.0.0.0 and all higher versions.
VERSION : 9.2.0.2
DATE RELEASED: 07 Jan 2019



Fixed Minor twig conversion issue for opencart version 3xxx
No changes for other versions
To update to this version, uninstall the extension, upload the latest one and install the extension
VERSION : 9.2
DATE RELEASED: 29 Nov 2018



Extension redesigned and code optimized for maximum compatibility
Updated extension as per the latest standards
Additional images in product JSON-LD
JSON-LD Implementation optimized
Feature Added: Option to display Product price with / without tax
Improvised JSON-LD in product availability
Feature Added: Product decription / meta-description selection
Feature Added: Category product list items
Logo image selection improvised
Feature Added: Related Products for Product Page Open graph
Reduced Template dependency
Breadcrumbs list JSON-LD added to many more pages like login, register, contact, sitemap, special, etc
Store Selection drop down added to admin
VERSION : 9.1
DATE RELEASED: 18 Feb 2018



Facebook OpenGraph has updated its Meta tags. Updating the same in the extension.
VERSION : 9.0
DATE RELEASED: 19 Aug 2017



Compatibility for OpenCart 3.x.x.x
Twitter Card Markup Added
OpenGraph image dimensions added to product and category pages
OpenGraph additional images markup added for product pages
Code optimized
VERSION : 8.0
DATE RELEASED: 09 May 2017



New Features:

Redesigned the Extension and up-to-date with the latest google standards
Depends SEO Extension Admin Base plugin for better organization of SEO extensions https://www.huntbee.com/seo-extension-admin-base-plugin [Free Download]
Multi-Store Support
Compatible with 2.2.0.0 and 2.3.x.x versions
VERSION : 7.1
DATE RELEASED: 09 Jun 2016



Extension updated for OpenCart 2.2.0.0 compatibility.Updates are made only related to OpenCart 2.x.x.x versions. No changes made to OpenCart 1.5.x.x versions

Added Feature:

Rich Snippets for Product pages are updated to JSON-LD as recommended by Google

The following changes are made:

Updated the extension admin template file, admin controller file
Updated VQMOD XML files of this extension

Upgrading from 6.5 to 7.1 instructions

Backup both files and database (Strictly Recommended)
Overwrite the existing version 6.5 with

the 7.1 version's files
VERSION : 6.5
DATE RELEASED: 19 Jan 2016



Enhanced with enable/disable feature
Local Business Schema in JSON-LD format
Product Title, Category title pattern set up feature for OpenGraph tags
Breadcrumbs schema in JSON-LD format
Breadcrumbs feature added for category pages and product pages
More user friendly
Manual Update of JSON-LD script
Documentation Added
VERSION : 6.1
DATE RELEASED: 26 Sep 2015



Local Business Microdata updated

Extension's group name changed

Compatibility tested for SEO BULK GENERATOR Extension and SEO IMAGE RENAME Extension
VERSION : 6.0
DATE RELEASED: 19 Sep 2015



This is the first release of this extension. This Extension is splitted and enhanced from the Extension HuntBee SEO PACK. Lots of new features included. Existing Features remains same for OpenGraph, Local Business Microdata.




New Features

Rich Snippets Enhanced for Product page according to the latest schema.org standards
Product Page Breadcrumbs Microdata updated to latest standards
Microdata Data Feature added to display Social Profiles (Facebook, Google+, Twitter, YouTube, linkedin, Instagram, Pinterest, Soundcloud, Tumblr)
JSON-LD Script added for Corporate Contact, Website Information, Organisation Information, Website Sitelink Search Box, Sitename in Search Results